Just like Christmas, I tend to think about the earth during the year and not just on Earth Day. If you know me you know I love a good up-cycle project. Sometimes I think my up-cycle enthusiasm is from my grandparents and my parents' generations. They learned at an early age to save, recycle, repurpose and reuse everyday objects. Oh, and then repeat those steps. My mom has a stack of aluminum foil in her pantry.
But today we use fancy words like up-cycle and repurpose. So in honor of the big day here are five simple ways to celebrate Earth Day every day.
I live in Colorado and we practice Earth Day every day. Some people more than others, but if you live here chances are you know someone who will guilt shame you into recycling. Or, maybe you are a blogger who blogs about her favorite upcycles like this one or this one. But, there's always room for improvement to make the earth a little healthier. Please share in the comments what you do to reduce waste.
5 Simple Ways to Celebrate Earth Day
1. Eliminate or Reduce the Use of Plastic Shopping Bags
I get it. You are in the grocery store and you realize you left your bags in the back of your husband's car. I get it! We all forget our reusable bags on any given day. It happens. #nojudgement
So you may have spaced your bag or maybe you were too tired to walk back to the car. I get it. On the other hand, it drives me CRAZY when I ask the baggers to stuff as much as they possibly can into a bag and then… I get home where one 16 oz. carton of Orzo is in its own plastic bag. Solo.
Drives me bat arse crazy!
Now, I tell the baggers to not bag items already in a plastic container or wrapped in their own bag (jumbo bag of snack chips). Some people will argue (whine)  that it takes more time to unload their groceries if they have to manually carry the container of juice and 1/2 gallon of milk all the way into the house with two hands. Here is my argument. You have two hands so use them to carry the actual 1/2 gallon of orange juice. Think of it like a mini arm workout. And, when is it ever a bad thing to get a few more steps into your daily routine?
This is what the back of my trunk looks like after a trip to the grocery store.

 2. Reuse large plastic bags & packing materials.
I am talking about large bags; bags that in a previous life contained mulch or garden soil. Or, the plastic enclosed comforter and sheet sets. Reuse large plastic bags for tissue paper storage, bows, out of season clothes. Find a reason to keep it.
I used large plastic bags from mulch and garden soil for weed barrier for my mulch last spring. Large plastic bags are helpful to smother an area of stubborn weeds. Smother sounds a little too strong; maybe weed mitigation?
3. Repurpose plastic and glass containers.
Repurpose the plastic containers that sneak into your house every week. The plastic containers from dish tabs and laundry detergent. I regularly up-cycle these heavy plastic containers for decorative pots and storage.
4. Don't Waste Water or Ice
The most obvious waste of water is running the water endlessly or while brushing your teeth. In Colorado, snow accumulations are below average which means yard watering restrictions. It's forced us to pay attention to water waste. Here's what I do with those 1/2 empty water glasses in the kitchen; I dump the contents into outdoor flower pots. And, the ice at the bottom of an empty glass; toss it into an indoor or outdoor plant or into the dogs' water dish. I never toss a pot of boiled water either. I use it to wash off the back patio.
5. Stop buying bottled waters
I can hear you all shouting at me. But, hear me out. Start with buying a 12-ounce glass or stainless steel water bottle. Make sure it fits into your car's cup holder. Buy one for each family member. They say it takes 21 days to learn a new habit. So you might lose a few bottles or find them rolling around in the back of the car. But, over time, the family will love the taste of icy cold water in a stainless or glass bottle.
A tennis friend loves this one.  She found it at Nordstrom. It is a little pricey for a water bottle, but it is very pretty. And, it will pay for itself over the course of a few weeks.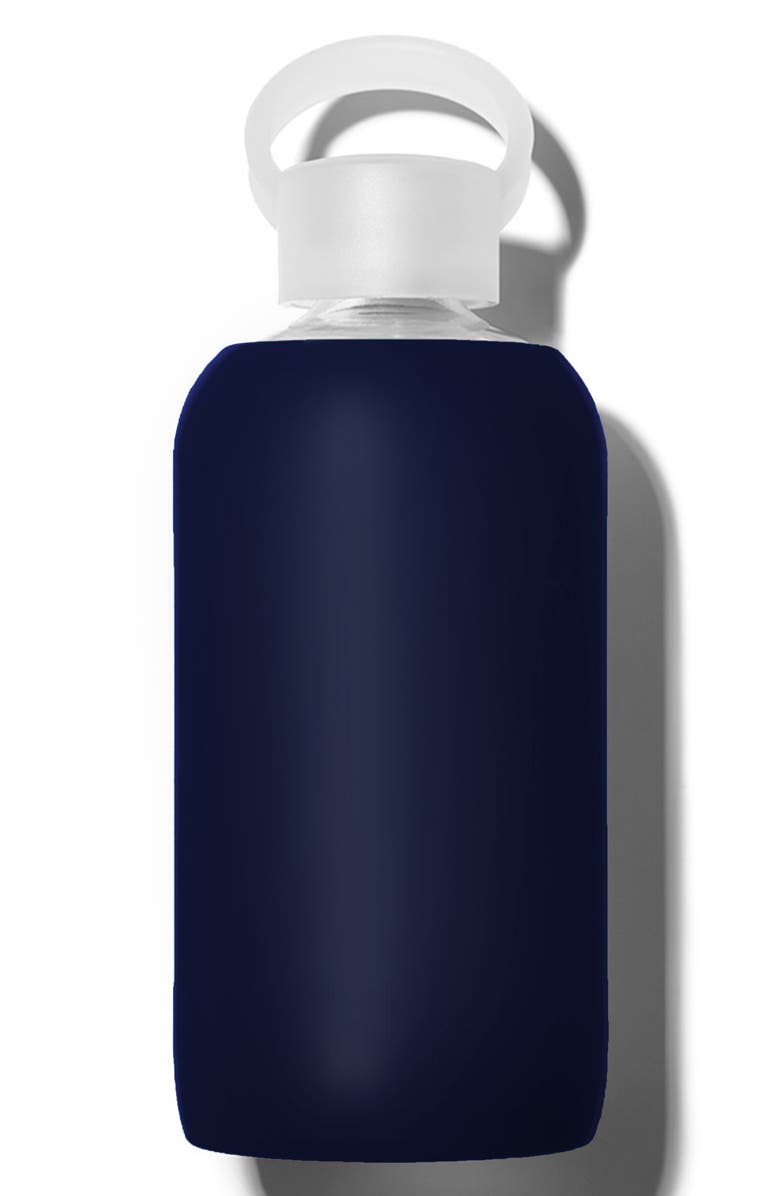 option
too for my family. Everything tastes better in a glass.
Thanks for stopping by and for more upcycle ideas check out this 30-second high quality, in-depth video. Please share your simple ideas to make every day Earth Day in the comments.
Who Might Like to See This?